It's the new year and you're probably thinking of switching your career to something you're more passionate about in the beauty industry.
Or perhaps, you've been struggling to find clients or scale your business as a lash artist and you're READY to turn things around this year and finally thrive in your life.
If you're not a fully booked and thriving lash artist this year – 2023, you're doing something wrong.
Here's why I can confidently say that.
WHY GROW YOUR LASH BUSINESS IN 2023?
The lash industry is one of the fastest-growing industries within the Beauty industry and it is projected to grow even more this year.
Yes, this is the year we've been waiting for!
We've got to thank social media, influencers and celebrities for the the growing obsession of eyelash extensions and professionally done lashes.
The traffic of clients flowing into this industry alone is consistent and growing.
There's enough business for every lash artist!
Need more convincing. Read on.
LET'S TALK ABOUT STATISTICS
The lash industry is booming. It is expected to reach $2.5 billion in sales by 2023.
According to Grandview Research, the market for fake eyelashes was estimated at USD 1.62 billion globally in 2021, and from 2022 to 2030, it is anticipated to rise at a compound annual growth rate (CAGR) of 6.2%.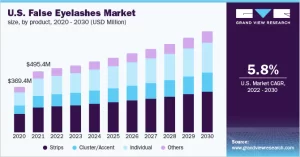 There's enough room for everyone, but it's better to choose your space in the room.
NEW FACES, NEW IDEAS
Aside from being financially rewarding, being a lash technician requires you to get to know new people. As a lash artist, you get to hear stories from your clients and first hand reviews on how you've helped them to gain back their confidence.
When I was still starting as a lash artist, I used to go from one salon to another. Every time I visited a new salon, business ideas would pop up. Like how to build better systems, marketing to clients and how to brand effectively. It's both educational and inspiring.
NEW COMMUNITY
I love how supportive the lash industry is. We've become so much more comfortable about collaborating to making our dreams a reality. No heat, no competition. This community is all about empowering each other. Sharing different success stories, stories of struggles, and pushing through amidst the odds. This is where passion meets the comfort of a family.
Being part of such a beautiful community inspired me to do better and extend help to those who aspire to become part of the lash industry.
WHAT'S NEW FOR ILASH?
What's better than lash extensions? Colored lash extensions!
This year, iLash Charlotte will take it to the next level with colors in our Classic Lash Course..
We want you to learn EARLY how to achieve the perfect colored lashes BUT also the business side of your lash business in order to really benefit from the growth in 2023!
I can't wait to get you Ready & fully booked in this new year.