When lashes are not properly isolated, they cling together during application.
If lashes of different growth phases (anagen, catagen, telogen), get pulled out prematurely. that could cause damage to the hair follicle, discomfort, and pain to the client.
Lash isolation serves several purposes. These are some of them:
Enables the normal shedding process
Ensures comfort while wearing eyelash extensions.
Allows for control of the shape and design
As important as it is, isolation is the most challenging skill to pick up when learning to apply eyelash extensions.
The inner and outer corners are often the hardest to isolate and manipulate. It is a very time-consuming process that requires intense focus and attention to detail.
Using a timer helps make the process faster, especially for those who are just starting their lash training.
How to use the Timing Method.
When newbies use a timer, they are pressured to focus more. As a result, they are able to strategically place lashes evenly, giving clients symmetrical-looking lashes.
The timing method teaches students to lash back and forth between lashes.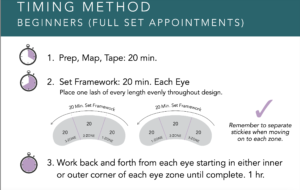 A timer allows students to evenly distribute lashes and not overwork themselves or focus on perfection.
The timer helps a student stay on track. Eventually, you won't need an alarm to remind you to move to a different section of the eyelashes. The game is not perfection but quality.
Initially, new lash artists might not be able to lash 100%, but it would definitely help you get a grasp of it.
You'll know what step in the process is holding you back and focus on improving it.
With time and practice, you'll get better and faster at it and shorten the application time.
The lashes an artist does should be secured, safely applied, and accentuate their clients' eyes for a noticeably enhanced look.
Besides, enhancing the beauty of their eyes and boosting their confidence is our ultimate goal in every lash session.